Create Custom Regulation
Custom Compliance enables users to create their own compliance with customized and distinguished rule sets that can generate reports on specific resources. Users can select a base regulation (CIS, HIPAA, NIST, etc) and can add or remove indefinite number of signatures in my defined rule sets according to your requirement.
Create Custom Compliance
1. Select Custom Regulation from the side menu, in Cloudnosys dashboard.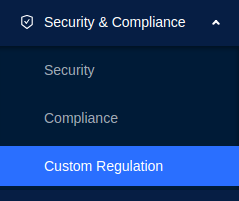 2. Click
on the next screen that appears.
3. Add Custom Regulation screen would open up.
4. In the Information section, enter the name and description of your custom Regulation.
5. Click on
button and select any base regulation if you want to import any.
6. If you want to add any custom rule, enter the name of customized rule and select category from the drop-down.
7. Select the signatures from the drop-down menu.
8. Click on New Rule Set to add more.
9. Click on Save button after completing.
10. Run Scan to view the resources in your Custom Regulation.