Resource Finder helps you to filter out resources in Cloudnosys, using the filters provided at the resource finder or you can search a specific entity in the search box.
Let's say, you want to check resources in your Azure cloud account for a service "Key Vault"
Click on Security Posture at Security Dashboard
1- Select Account
2- Select Service and then resources according to the applied filter will be shown
3- Resources found: is the total count of resources found in Azure service "Key Vault"
4- Risks shows the total risks found in each resource
Cloudnosys provides a variety of filters. You can Filter by Category:
Filter by Regions: The geographic location where your Cloud assets are accessed
Resource profile portrays an outline of a specific resource such as resource health, failed and passed signatures
Resource name
Region name (in which the resource exist)
Service
VPC
Failed: tab shows the signatures which are failed in that resource
Passed: tab shows the signatures which are passed in that resource
Automate Remediation:
You can create automated workflows to remediate risks using the Cloudnosys Playbooks.
A Playbook can help automate and orchestrate your response and will run automatically as soon as this risk gets detected.
If you want to remediate a risk, do the following:
Go to the Security Dashboard
Click on a Risk. This will open the signature view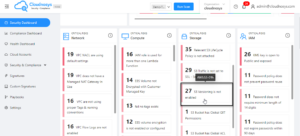 3. Go to the Remediation tab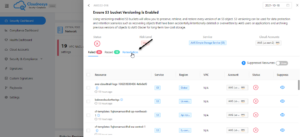 If you have already created remediations previously, they will appear as shown below: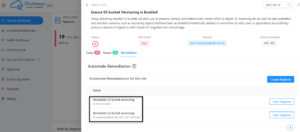 4. To remediate this risk, click on the "Create Playbook" button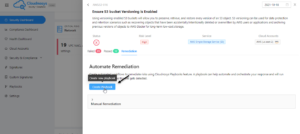 It will directly take you to the Playbooks editor screen and all the relevant information of that risk will be added automatically e.g Cloud account, service & signature.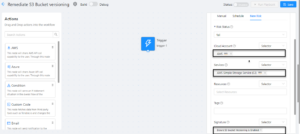 Export PDF:
'Executive Report' contains a detail summary of:
i) Regulation summary
ii) Rules Description
iii) Signature Checklist
iv) Suppressed Rules Applied
Whereas, 'Full Report' contains all data same as the executive report in addition to Signature level details